The Breitling Chronomat 808 introduced a major change versus its 769 predecessor along with more subtle updates. Gone were the rectangular pushers in favor of round pump pushers. Big dagger hands replaced earlier needles. Additonally, a larger signed crown joined the fray to help the Chronomat fit in with other Breitlings of the era. Dial-wise, applied baton hour markers replaced former versions often found with Arabic numerals. The Venus 175 remained in place ad the Brevet (patent number) moved from the dial to the snap-back case back. Sadly, although I enjoy the sentiment this watch now contains, my version's case back was polished off to make room for an inscription that shows it was give to "Marvin" in 1962. Lucky guy…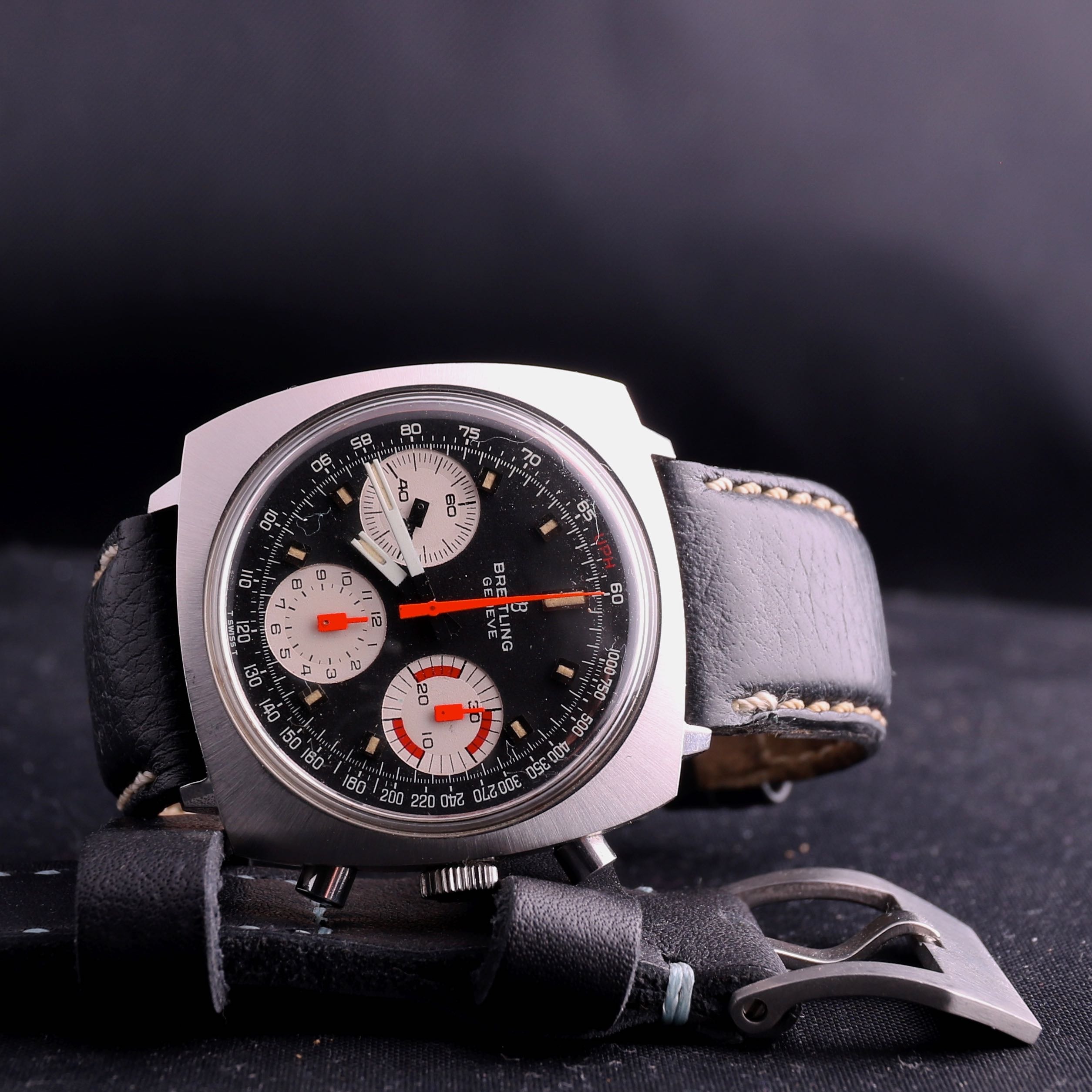 When digging into the initial history of the Chronomat, and this carried through with the Breitling Chronomat 808, the watch wasn't actually designed for navigational purposes. Unlike the later Navitimer, it seems that the Chronomat was made for engineers, mathematicians and those who made it their task to solve problems. The aforementioned posting on Watch U Seek, maintains that the Chronomat was second to the market as a slide rule watch, but it seems it was first to combine the practical tool with a chronograph. Whatever the case, we can certainly state that this Breitling was the first popular watch with a Slide Rule. The article also states that no mention of the watch's use for pilots can be found until a late 60's AOPA advertisement makes the link (the 808 gave way to a much different, automatic Chronomat in the late 60's). Think of this as a dressier 1940's version of the 1980's Casio digital calculator watch and you're in the same ballpark, er – classroom.
When taking a detailed look into the cosmetics of this Breitling Chronomat 808, it becomes clear that this is one amazingly attractive chronograph. With its slender, chamfered lugs, a Breitling calling card, 36mm case size and 18mm lugs, the Chronomat straddles the fine line between tool and elegant watch.But taking a look at the watch from the side and seeing how the bezel overhangs the case and angles outward, it actually measures in at over 37mm in diameter. That angling attribute, by the way, is extremely similar to the ultra rare "wide bezel" Cosmonautes that were later introduced when Scott Carpenter requested such piecesfrom the brand for space exploration purposes. The bezel, which is beautifully beaded, is easy to turn but contains a bit more tension than in the Navis and Cossies I own.
If there's one "beef" I have with vintage Cosmonautes and Navitimers, it's that their crystals portray a vast expanse of fragility. Combine this with a total lack of water resistance and bezels that spin as freely as Robert-Jan on his Technics SL1200s and I must confess that wearing these big watches feels precarious. Yes, they're deservedly seen as icons, but they're just not that practical unless you live in a dry room made solely of pillows. The Breitling Chronomat 808, in my view, gets it right. You have all the trademark Breitling looks, but the size is far more wearable and it feels a bit more solid. This is all despite a slim profile of roughly 11.5mm.I bought this Breitling Chronomat 808 roughly two years ago from a dealer in Philadelphia for about $1400. This was a nice deal then, but it's a steal today. Good Chronomats regularly cross the $3000 mark and rare versions (like early 769's) now see $4000+ with relative regularity. Be on the lookout for dial damage – this one has a touch, but it's deemed as quite presentable in Breitling circles – that often leads to redials. Additionally, incorrect hands and other parts are typical as well.